Samsung, one of the kings of the mobile world, has yet again come up with another innovation. Samsung Galaxy A12 was launched on February 16, 2021. Also, Its primary built-in security feature – the fingerprint sensor is unparalleled. Also, I really like the naming scheme of the Samsung Galaxy A series. In Samsung Galaxy A12, "1" depicts its tier, and "2" depicts its generation. Let's find out what you are getting at an entry-level price:
DESIGN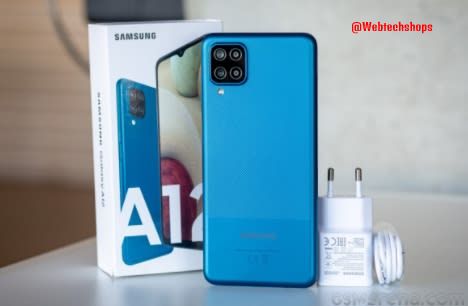 – The smartphone has streamlined design aesthetics and comes in classic colors- white, blue, and black.
– This Phone's refined curve makes it easier to grab or hold and provides easy screen navigation. The back of the phone has a nice feeling of plastic and has a glass front.
– The mobile phone's dimension is 164.0×75.8×8.9 mm, and its weight is 205 g which is the same size as the competitors. It has a pleasing look to the eye.
– They have a quad-camera island, but it did not have enough space to fit a flash, and thus it is placed below the camera cluster. Although marketing departments may disagree, I find 2MO macro and depth modules are not a good use of the space.
– Smartphone has a glass front, and you will find a small notch up to the top of the screen, making way for the selfie camera.
– There were reasonably sized bezels surrounding the display. Since it is not a premium phone, a bit of extra black frame will not be a surprise. The chin looks a bit chunkier. Overall, Galaxy A12 neither looks dated nor cheap on account of its bezels. Although the display coating is not that appealing, Also, you can easily fix it using a glass screen protector with an oleophobic coating.
– As we tour around the sides of the phone, we discover a fingerprint reader/power button on the right side. There is a volume rocker on the top of the fingerprint reader, which is quite tough to reach.
– On the opposite side, there is a SIM slot. It comprises two nano SIMs and a microSD card which is used as storage expansion. Also, The triple card slot has won the hearts of many for being versatile.
Telephone and call quality
Now, Samsung Galaxy A12 comes with solid earpiece quality. The sound from the other end will be sufficiently loud and clear. Even at high volumes, the voices will barely get distorted. However, that is not the same story for the other party. The microphone sounds are muffled sometimes. So, skype video calls that have a built-in front-facing camera come with a few issues. Samsung Galaxy A12 is equipped with Voice over Wi-Fi (WLAN calling). Also, Users can make calls to places with no availability of mobile networks using a WLA connection. One of the popular features of the Samsung phone is the support of Voice over LTE (VoLTE).
Camera
On the back of the Samsung Galaxy A12, the camera module has an ultra-wide-angle lens with a resolution of 5 MP and a depth camera and macro lens. As per the database management assignment help provider, "The smartphone supports pixel-binning, its primary camera setup is 48 MP, and it uses a maximum aperture of f/2.0. Its 12 MP picture shows satisfactory image sharpness during daylight. Its detailed work is also produced quite well."
Memory
Its smartphone memory has 3GB memory which can be expanded. Also, It comes with an internal storage of 32GB, and its external storage can be expanded with a microSD.
Battery life
The smartphone is powered by a 5,000mAH battery. Due to its low-powered chipset, the battery lasts for a very long time. With its fast charging facility, you can get a 2-day worth of battery life in just one charge.
Software
Samsung Galaxy A12 is based on Android 10. As per the manufacturer, the smartphone is likely to update the latest version 11 and the newest one, UI 3.0, in Q2/Q3 at the end of the year. Although it is missing several features like Samsung Pay and Edge Panel, the smartphone is equipped with NFC support.
Pros and Cons of Samsung Galaxy A12
 Below, we have listed out a few pros and cons of using Samsung galaxy A12.
Pros
15W fast charging
128GB internal memory, which has ample space to save data
Smooth and fast data transfer with USB Type-C connectivity along with wit fast charging
8MO HDR front camera and videos of 1080p@30fps
Impressive 48 MP quad-camera setup
Excellent fingerprint reader
Our Related Article: Oppo Find X3 Pro
Cons
Lacks gorilla glass protection
It does not support heavy gaming
Camera performance is of mediocre quality
Unsatisfactory TFT HD panel
Lacks reverse/ wireless charging
Little overpriced
Absence of face unlock support
The back is make of plastic
Should you buy the Samsung Galaxy A12?
It is not recommended to buy Samsung A12 if you want to play PUBG or CODM on a regular basis. The battery drains 20% faster, and I am not the only one facing the issue. They have a poor processor, and its screen sensor sometimes freezes. The speaker of the Galaxy A12 is sufficiently loud. As per its price range, they are much louder and also sound better. Its sound output is relatively loud, clean, and comes with little noise.
So, if you want a smartphone with a good speaker in a low price range, you will not find a better smartphone than Samsung Galaxy A12. As compared with other phones in the category, Samsung A12 provides a much better user experience. If you are looking for software with a better user experience, we recommend using Galaxy A12. Also, It is up to you what you prioritize most when it comes down to buying Samsung Galaxy A12.
Wrapping up,
Now, Samsung had been successful in creating a solid smartphone in the lowest price segment. Also, It takes decent pictures. Its textured surface on the back is impressionable. One of its good features includes One UI. However, the company must work on its performance section for the next model, to increase its sales.
AUTHOR BIO: Jeremy Miller is a software engineer in one of the USA's most reputed companies. He is also affiliats with MyAssignmenthelp.com, where he assists students with database management assignment help.